Hunters Edge
PRODUCT CATEGORIES
Hunter's Edge has been manufacturing hunting scents and accessories since 1987. We're committed to introducing new and innovative products year after year, to help you…
Hunter's Edge is committed to producing award-winning innovative products for big and small game hunters to enjoy. That commitment, was born from countless hours of in-the-field testing, personal experience, as well as adhering to customer feedback on their hunting adventures. We stand 100% behind the products we manufacture, and promise to continue to develop cutting edge one-of-a-kind products year after year, to help you become successful with each trip afield.
About Us
OUTWIT THE GAME YOU HUNT!
Hunter's Edge has been manufacturing hunting scents and accessories since 1987. We're committed to introducing new and innovative products year after year, to help you… Outwit The Game You Hunt



Watch Our
VIDEOS & COMMERCIAL
What People
SAY ABOUT HUNTER'S EDGE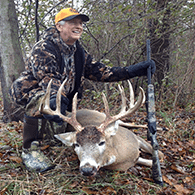 Join Our
NEWSLETTER
Join our newsletter to see all the new products and sale specials.